Past Treasurers
Wilson Bell
30th State Treasurer: 1941-1945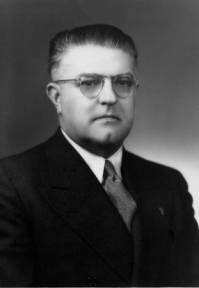 Wilson Bell (Democrat), the 30th State Treasurer, was born in Potosi, Mo., on May 24, 1897. He was educated in the public schools of Washington County and at the University of Missouri.

He enlisted, at 21, in the United States Army and served until the end of World War I. Mr. Bell was elected treasurer of Washington County from 1924-1932, was treasurer of the Missouri Press Association from 1932-1940, a member of the Democratic State Committee from 1930-1940; Chairman of the Publicity Committee, Democratic State Campaign in 1938 and was an active member of the Young Democratic Clubs of Missouri from its inception. He was also a member of the Board of Managers, State Federal Soldiers' Home at St. James from May 1939 to January 1941.

Mr. Bell was elected state treasurer in 1940. During his tenure in office, the salary for state treasurer was increased to $7,500 per year. He was elected secretary of state in 1945, and died during his term in that office. He was married in 1918 to Margaret Mary Settle, also of Potosi, and they had two daughters. He died May 20, 1947.