Jacob Friedrich Gmelich
21st State Treasurer: 1905-1909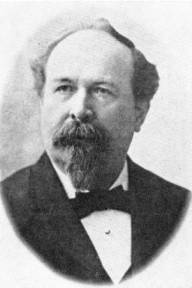 Jacob F. Gmelich (Republican), the 21st State Treasurer, was born at Wurtemberg, Germany, on July 23, 1839, and came to the United States in 1852, settling at Peru, Illinois. He was educated in the public schools of his native land and in a private school at Peru.

He was apprenticed to a watchmaker for four years and moved to Chicago in 1856, where he worked at that trade. In 1858, he moved to St. Louis where he worked for two years before establishing a jewelry house in Boonville in 1860. He served several times on the city council and as a member of the board of education. For many years, he was president of the Commercial Bank of Boonville, and was Mayor of Boonville eight times.

In 1904, he was nominated by the Republican State Convention for state treasurer and was elected. His salary was $3,000 per year, and he employed five persons, adding a janitor to his staff. Upon becoming state treasurer, he purchased property and became a resident of the Jefferson City.

In 1908, he was elected lieutenant governor, and served four years. Afterwards, he returned to Boonville and operated a watch repair business with a son-in-law.

He was married to Dorris Mueller in St. Louis on May 8, 1861. The couple had a home under construction when he died Feb. 21, 1914.