Frank Littleton Pitts
19th State Treasurer: 1897-1901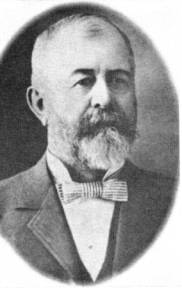 Frank L. Pitts (Democrat), the 19th State Treasurer, was born in Shelby County, Mo., on April 25, 1841. He was educated in the common schools of Shelby County and the Hannibal public schools.

Mr. Pitts entered the Confederate service in the spring of 1861. He was wounded at the battle of Franklin, Tenn., losing his right arm, and was captured and held prisoner at Camp Chase, Ohio, until June 13, 1865. He had been a saddler before entering the army and returned to that work on his release. He was sheriff of Monroe County for four years and collector for ten years.

In 1896, he was nominated for the office of state treasurer and was elected. He received a salary of $3,000 and employed three persons. During his administration Missouri's in-bonded debt was reduced by $3,113,000. In 1899, the legislature created the office of inspector of beer and malt liquors and it became the duty of the state treasurer to provide "suitable and inimitable state certificates and labels for this inspection, the gauging and labeling having on each proper places for countersigning by the state treasurer:" The plates for these labels were to be kept in the treasurer's office. A sum of $10,000 was appropriated for the expense of carrying out those provisions. After serving his term, Mr. Pitts became trustee for the Home of Ex-Confederate Soldiers.

He was married to Laura Boulware in 1875, and died while visiting their daughter in San Antonio on Feb. 4, 1905.