Past Treasurers
Robert W. Winn
29th State Treasurer: 1937-1941
31st State Treasurer: 1945-1948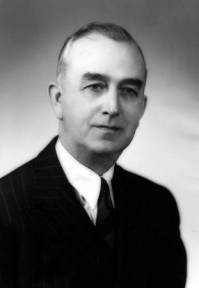 Robert W. Winn (Democrat), the 29th and 31st State Treasurer, was born in New London, Mo., on June 9, 1895, and educated in the public schools of New London. Mr. Winn operated a confectionery until 1930, when he was elected county clerk of Ralls County.

He was re-elected in 1934, but resigned to assume the duties of state treasurer in January of 1937. His salary was $3,000 per year. During that term, the State Social Security Commission was created, and was attached to the Office of State Treasurer, thereby increasing the duties of the treasurer's office. Extra help was needed, raising the total of employees to 43 during the transition period in 1937-1938, and 41 employees thereafter. He was elected secretary of the National Association of State Auditors, Comptrollers and Treasurers in 1939.

In 1941, he was appointed as commissioner of the Permanent Seat of Government and served in that capacity until January 1945. In August 1944, he was again nominated and elected to the office of state treasurer. The salary for his second term was $7,500 per year, and he had a total of 45 employees.

It has been noted Mr. Winn had a very pleasant singing voice, and when campaigning for office he was asked to sing almost as often as to make a speech.

He was married to Miss Victoria Silver of Ralls County on Dec. 27, 1921, and they had one daughter. Mr. Winn's promising career ended with his death, while in office, on Aug. 13, 1948. Former state treasurer Richard R. Nacy was appointed to complete Mr. Winn's term of office.