James Earickson
3rd State Treasurer: 1829-1833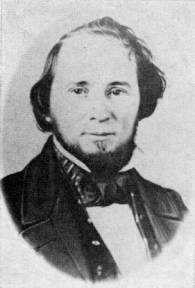 James Earickson (Democrat), the 3rd State Treasurer, was born in the Isle of Kent, Md., on December 7, 1782. He moved to Missouri in 1818, settling first in Bowling Green Prairie, 12 miles above Glasgow. He later acquired a large piece of land in Howard County and, in 1828, moved into a new home, which may have been the first brick house built in Howard County. In 1836, the town of Glasgow was laid out from land partly bought from Mr. Earickson.

In August 1828, he was elected state senator and on Jan. 1, 1829, was appointed by the General Assembly to the Office of State Treasurer. Upon becoming treasurer he moved to Jefferson City and lived in a four-room weather-boarded log house. Since there was no Governor's Mansion at that time, Governor John Miller took his meals and spent much of his time with Mr. Earickson.

Since there was now a permanent capitol, the office of the state treasurer was maintained at another location. The Treasury was a small red brick room with iron doors and windows. The money was kept in an iron barrel and the vouchers in another barrel.

In January 1831, the General Assembly re-elected him as state treasurer by a margin of four votes. His salary during his tenure as treasurer was $730 a year, and he was required to post a $60,000 bond, with a minimum of six securities. At the end of his appointment he retired to his Howard County farm.

He was married to Rebecca Malone, originally of Hagerstown, Md., and they had three children. An interesting footnote is that his granddaughter, Jane [Perry] Francis, was Missouri's First Lady during the administration of Governor David Rowland Francis. Mr. Earickson died June 11, 1844.