James Cowgill
22nd State Treasurer: 1909-1913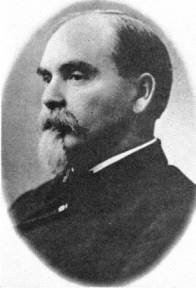 James Cowgill (Democrat), the 22nd State Treasurer, was born April 2, 1848, on a farm in Henry County, Ind., and was educated in the public schools of Indiana.

He joined the 9th Indiana Infantry on Oct. 7, 1864, and served with the Union Army until Sept. 28, 1865. He moved to Missouri in August 1868, and settled on a farm in Caldwell County, where he engaged in farming and raising stock. The town of Cowgill was built on his farm. Mr. Cowgill was elected presiding judge of the Caldwell County Court in 1882. In 1890, he represented that county in the 36th General Assembly. In 1892, he was elected railroad and warehouse commissioner. He moved to Kansas City in 1893, and was elected city treasurer in 1900.

He was elected state treasurer in November 1908. His salary was $3,000 per year, and he employed six people, including a chief cashier, three bookkeepers, a stenographer and a janitor.

After completing his term he was chairman of the Democratic State Central Committee in 1916 a member of the Kansas City Board of Elections in 1917 and Mayor of Kansas City from 1918-1922.

He was married Sept. 22, 1867, to Ella Myers in Henry County, Ind. They had four children. He died at his desk in the mayor's office Jan. 20, 1922.