Alfred William Morrison
7th State Treasurer: 1851-1861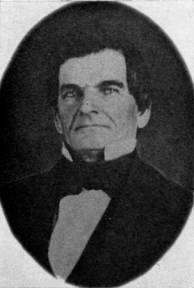 Alfred William Morrison (Democrat), the 7th State Treasurer, was born November 25, 1802, in Jessamine County, Ky. He moved to Howard County, Mo., in 1820.

He was tutored as a surveyor by his stepfather, and was elected surveyor of Howard County, serving for 10 years, during which time he surveyed the sites of New Franklin, Fayette, Roanoke and Boonesboro. At various times he also served in Howard County as sheriff, assessor and county judge. President Polk appointed him receiver of the land office at Fayette from 1845-1849.

Governor A. A. King appointed him state treasurer in 1851 to fill out the unexpired term of Peter G. Glover, who died in office. Mr. Morrison was re-elected for three terms. The treasurer's salary was raised during his administration to $1,750 per year with a $250,000 bond required. In 1855, the legislature approved an appropriation of $800 per year for clerks' salaries.

Mr. Morrison resigned the office in August 1860, rather than take the "test oath" of loyalty the State Convention had provided should be taken by all public officials in Missouri. This oath stated "each civil officer in this state...take and prescribe an oath...that he will not take up arms against the government of the United States nor the Provisional Government of this state, nor give aid or comfort to the enemies of either during the present Civil War." Upon resigning office he returned to his Howard County farm, where he spent the rest of his days.

He had two children by his first wife, Minerva Jackson, who died in 1858. He remarried in 1860 to Martha Johnson. Mr. Morrison died on his farm near Fayette on Aug. 24, 1883.